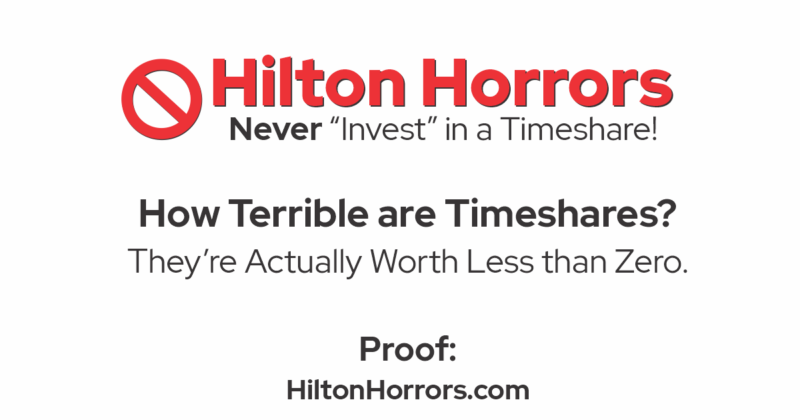 "Can't Hilton Just Take this Domain Away? After all, 'Hilton' is a trademark!"
No: Fair Use allows commentary or criticism that incidentally involves the use of a trademark so long as such use is for a purpose other than that normally made of a trademark. We guarantee we are not running any hotels, timeshare properties, resorts, or similar properties, and certainly never have done so ever, nor will we use the Hilton name or any derivation thereof in any business other than this free site that has no advertising.
If they try to take it, we won't just fight: we'll go to the media. Wouldn't that be a juicy story!
Procedure for Hilton Representatives
All Hilton has to do is void our contract and return all of our money — $58,583.49 — plus interest at the same rate you charged us (15.22%) from the time each payment was made (shown here), compounded in the same way it was in the original contract. Simply: Make Us Whole!
In addition you must agree to 1) ensure there is no damaging information reported to any credit agency regarding our contract, as it is voided; 2) waive reimbursement for the three (count 'em: THREE!) nights we finally managed to stay at one HGVC resort, and 3) waive the value of any other points, benefits, or other items of value transferred or used.
In return, we won't require you to refund the FEE charged to book those three nights, we will agree in writing to not pursue legal action as it relates to this issue, and we will assign Hilton Hotels & Resorts (or any entity of their choice) the rights to this domain. This does not include any of the content on this site. We reserve all copyright ownership, and any transfer of said ownership of the intellectual property here would require a separate payment.
Send Us a Message